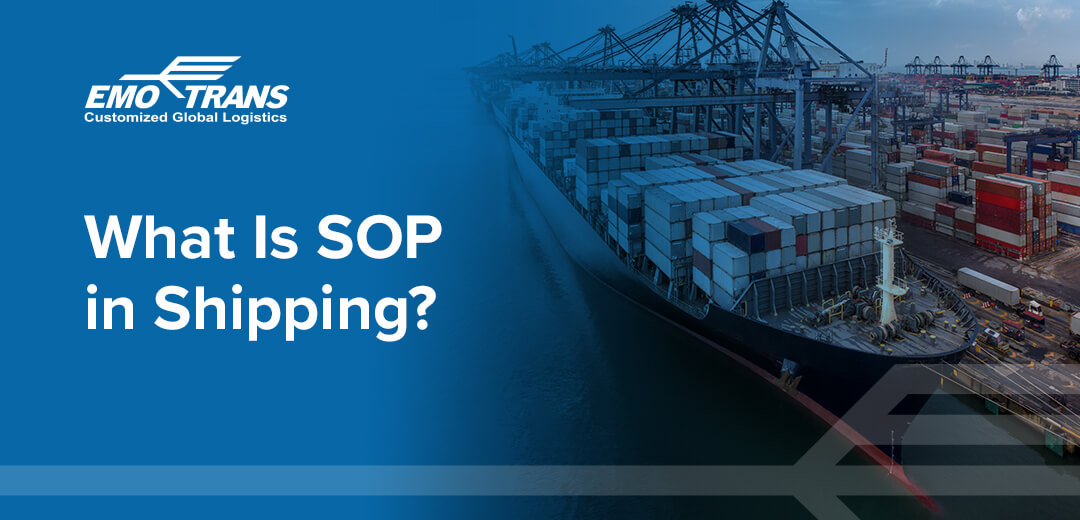 What Is SOP in Shipping?
Order fulfillment is a multistep process with an entire lifecycle for every item ordered. This process begins when a customer purchases an item and ends when the customer obtains ownership of the item after delivery. Every business aims for successful order fulfillment, and this is especially true for e-commerce companies and businesses with international customers.
How you fulfill your company's orders will affect how your customers perceive your brand. To experience the smoothest operations, your company needs a standard operating procedure (SOP). Whether you fulfill orders yourself or partner with a shipping logistics company, knowing what SOP means in shipping will help you streamline your shipping process.
SOP Meaning in Shipping
Knowing SOP in shipping terms can help you take the next step toward creating an SOP for your company. An SOP is any organization's instructions for completing every step of the shipping process compiled into a document or set of documents. It's a two-way document benefitting the shipper and the receiver of any commercial transaction.
Both parties will use the SOP to create flowcharts to accomplish various shipping tasks. They can also make adjustments to the document so the other party knows what to do if any changes occur to the regular routine. The primary purpose of SOPs is to streamline the shipping process and achieve greater efficiency, which you can learn more about in the next section.
Why Is a Standard Operating Procedure in Shipping Important?
Several valid reasons exist for why having an SOP is essential for your shipping process, including the following:
People: Many people participate in the shipping process, each having a unique role. For this reason alone, a document containing information about these roles and responsibilities is essential for helping everyone work together.
Timelines: Different timelines exist, including same-day delivery and next-day delivery. An SOP can include the operating procedures for fulfilling these and other types of shipments to meet deadlines and follow regulations.
Personnel changes: Either party's involved personnel can change because of illness, vacation time, new hires or other circumstances. An SOP can help transfer necessary knowledge to the new personnel to keep operations flowing smoothly.
What Is Included in an SOP?
A comprehensive SOP may include the following information:
Email addresses for shipment status information updates and alerts
The chain of contact for communicating about any aspect of the shipping process
Invoicing information
Information on the commodity or product being shipped
Special details including the common sizing of items or the presence of hazardous materials
Brokerage information
Delivery schedules
Expectations for communication throughout the process, including relationship reviews and reporting requirements
By including this information in your SOP, you can experience streamlined operations with less guesswork.
Creating Your Own SOP
To enjoy the benefits of an SOP for your business, you need to know how to make one. Below are common areas in the order fulfillment process you should include in your SOP.
1. Receiving Inventory
In this stage, you receive your company's inventory to organize and store in your storage facility or with your logistic provider. Either way, accuracy in the receiving stage is crucial to a smooth process.
Your SOP should include information to minimize errors that will affect the rest of the process. Here are some examples of processes included in this stage of an SOP
Check to see if any goods have arrived damaged.
Ensure the correct quantities of goods have arrived in the shipment, documenting any errors.
Properly organize all received inventory for easy access and regulation compliance.
2. Checking for Quality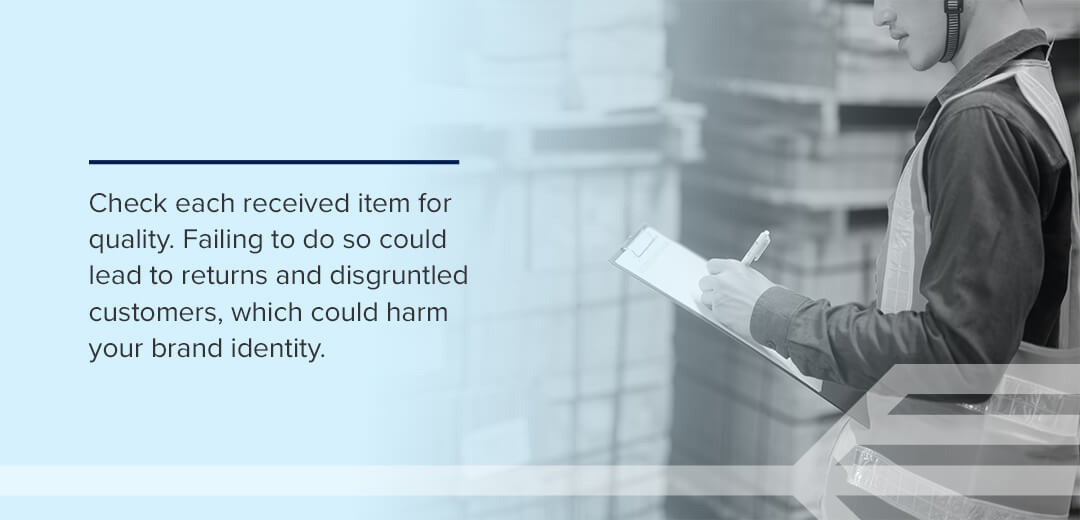 If you will sell the products you receive, you need to ensure they meet your quality standard for selling. Check each received item for quality. Failing to do so could lead to returns and disgruntled customers, which could harm your brand identity. Here are some examples of checking for quality in an SOP:
Create a set of rules that help involved parties define a product's quality.
Visually inspect each received product by comparing it with its image.
If you ordered product variants, determine if they are all present.
Mark all products that have been checked for quality before adding them to the storage shelf.
Move all products that have fallen short of quality standards to a designated location for return to the supplier.
3. Picking Items
Once your customer orders one of your items, you enter the picking stage. Here, someone known as the picker chooses an item from your storage shelf or the shelf of your logistics provider to ship to the buyer. Accurate picking procedures ensure the customer gets what they ordered.
Here are a few examples of an SOP for picking items to ship to customers:
Create pick lists that specify items' locations.
Provide pick lists that give each picker specific items to pick for the day.
Use technology, including barcode scanners, to ensure accurate picking.
Prepare different packing stations for different picked items.
Always double-check items before packing.
4. Packing Items
Here, workers will package picked items and prepare them for shipment. Packers have an important job, as they must use the correct packaging for each item to ensure a safe shipment. Without an SOP for packing, items could reach buyers damaged or broken.
Here are some examples of SOP for packing:
Make a list of product sizes with their corresponding box sizes.
Set the standards for which packaging materials are for which types of products.
Establish a process for gathering items at each packing station, like boxes, marketing inserts and mailers.
Place the shipping label on the package and mark as ready to ship.
5. Shipping Items
The shipping process is when the carrier picks up items marked "ready for shipping" and transports them to the customer. Various shipping partners can be involved with this step. Here are some SOP for shipping examples to help keep the process efficient and successful:
Sort packed orders in groups according to the shipping provider that will take them.
Move packed items to appropriate areas for easy access by shipping providers.
Ensure the carriers follow procedures to limit damages to items when loading and shipping.
6. Handling Returns
Returns occur when customers send items back to your company for various reasons. Even the best companies get returns, so having a solid SOP will ensure this step of the process stays efficient to minimize financial loss. Here are some SOP examples for returns you could follow:
Ensure returned items have all components included.
Conduct a quality check to find any damages or defects.
Restock items if they are in sellable condition.
Refurbish or dispose of damaged or deteriorated items.
Update all changes in your inventory.
Choose EMO Trans for Your International Shipping Needs
EMO Trans is ready to help you experience successful international shipping for your business. We have been helping businesses across industries like yours increase efficiency and ease in their shipping process since 1965, and we want to partner with you to help you reach your goals. With a presence in 120 countries, you can count on us to handle your shipping process wherever your items need to go.
Contact us online or request a quote to take the next step.