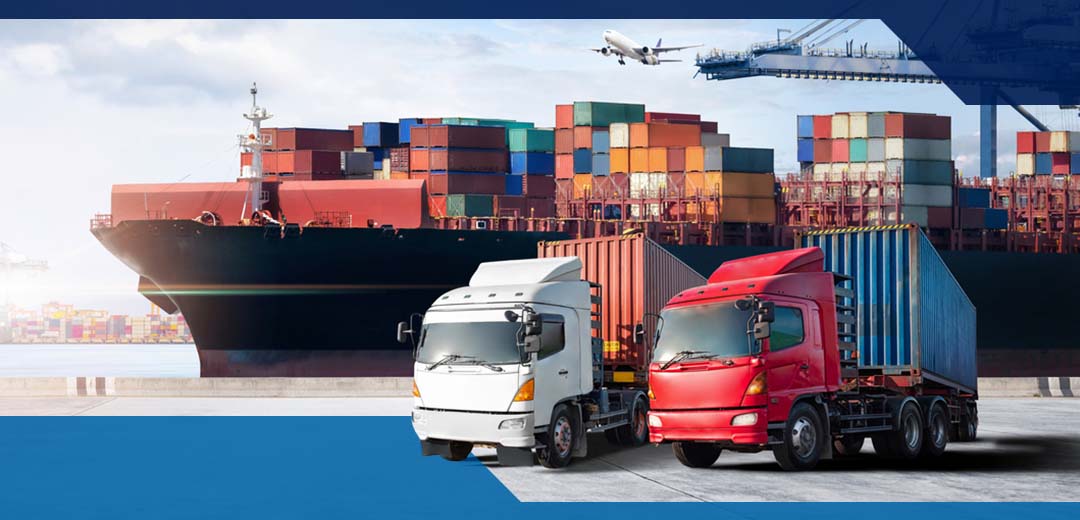 Importing and exporting goods from around the world is the core of many profitable businesses. However, international logistics can be complex. There are several factors to consider, including storage, transport and customs. Many countries also have specific import and export laws and regulations that govern how goods can enter and exit their borders, adding to the complexity of global logistics.
International freight forwarding is the movement of goods and cargo around the world. Generally, international freight forwarders coordinate this movement of goods on behalf of buyers and sellers. Many businesses rely on international freight forwarding to transport goods worldwide. A freight forwarder can streamline shipping to make it more efficient.
What Is International Freight Forwarding?
International freight forwarding is the coordination and shipping of cargo across international borders on behalf of shippers. Freight forwarding relies on four types of transport to ship freight worldwide — air, road, rail and ocean transport. Each freight method is crucial to the transportation of goods. Often, a combination of all four is used, depending on the country the goods are being shipped to and from. Further, freight forwarding can include customs brokerage, warehouse planning, container tracking and freight consolidation.
The main principle of freight forwarding is to find the most efficient and cost-effective route to transport goods while ensuring the safety and condition of the cargo. International freight forwarders are experts in logistics, working with multiple parties across countries to ensure goods are delivered on time and in good condition.

What Is an International Freight Forwarder?
Freight forwarders are the intermediaries that coordinate transport for importers, exporters, sellers or buyers along the supply chain. They coordinate shipping by working with customs, authorities, officials and transport companies across countries. Shipping can be complex and often requires using more than one shipping method, like both rail and air freight. A freight forwarder considers the nature of the goods, delivery date, transit costs, customs regulations, collection locations, delivery spots and warehousing needs to find the best route for shipments.
Freight forwarders are experts in logistics with extensive global networks that help them negotiate shipping routes. Here are some of the things freight forwarders handle:
Shipment tracking: To maintain visibility through each stage of transport, freight forwarders track shipments along their route. Tracking shipments helps forwarders follow freight as it travels so that they can address delays or issues that arise during the journey.
Customs brokerage: Only licensed custom brokers are qualified to manage and submit the extensive documentation required for importing and exporting. Freight forwarders work with customs brokers to prepare and clear shipments upon arrival at a port.
Warehousing: Many forwarders have their own warehousing to store shippers' cargo. Alternatively, they will have warehousing partners to store goods along the route.
Negotiating: Forwarders negotiate with carriers for cargo space and possibly better prices for shippers. This can be a complex process that involves balancing a shipper's needs with a carrier's interests based on cargo type, time flexibility and space and weight requirements.
Cargo scheduling: When shipping your cargo, you must consider various factors such as space, time and location. Forwarders work out every aspect of cargo scheduling, including whether the load needs to be consolidated or spread across shipments. They also measure the feasibility of different shipping options to see if intermodal transit will work for your shipment.
Freight consolidation: Some shipments are too small to require an entire shipping container. In these instances, a freight forwarder will consolidate several smaller shipments into one container and share the costs among shippers.
Cargo insurance: To protect shippers against financial loss in the case of cargo loss or damage, freight forwarders can supply cargo insurance.
Stages of Freight Forwarding
International freight forwarding can be complex. It requires significant skill and expertise to coordinate effectively. There are six main stages to freight forwarding:
Export haulage: Goods are transferred from their source to the freight forwarder or partner's warehouse.
Export customs clearance: Forwarders get the proper clearance for goods to leave their country of origin.
Origin handling: Forwarders handle the loading and unloading of goods between warehouses and transport in the country of origin. Origin handling also includes the inspection and validation of cargo against its booking documents.
Imports customs clearance: Your forwarding partner will ensure your shipment has the required documentation to be allowed into a country.
Destination handling: The forwarder will handle the unloading and loading of cargo between transport and warehouses in its destination country.
Import haulage: Goods are transported from the import warehouse to the shipper's warehouse, business or customers.
Benefits of International Freight Forwarding
As the world becomes increasingly smaller due to globalization, international trade is at the core of many businesses. Regardless of industry, cross-border transit of goods is critical to ensuring the smooth operation of a business. For many companies, dealing with the complexities of international logistics can be too time-consuming and costly to handle in-house. The need for transport and warehousing partners in different regions can be challenging for most small to medium businesses to maintain.
These challenges and others explain why numerous companies prefer to work with freight forwarders. Here are some of the benefits of working with an international freight forwarder:
Expertise and experience: You can leverage freight forwarders' years of experience and considerable expertise to transport your goods safely and on time. This includes dealing with regulations and knowing the best transport routes.
Global access: Freight forwarders have transport and distribution partners worldwide. They can leverage these partnerships to help you ship goods to and from nearly anywhere in the world. Forwarders can also buy the space you need if you only send smaller volumes.
Cost-savings: There are a few ways that freight forwarders can save you money. As they coordinate the transport of large volumes of cargo for several shippers, freight forwarders can negotiate better prices with carriers. Forwarders can also consolidate multiple smaller shipments into one large container, sharing costs across shippers and resulting in cheaper shipping.
Compliance: Customs regulations can vary by region, country and type of cargo. Freight forwarders ensure that your shipment meets the stringent requirements of each custom authority. This includes providing accurate documentation detailing the load, delivery locations or routes and any cargo insurance paperwork.
Accurate tracking: Freight forwarders use technology to track cargo from distribution to delivery. They monitor its progress and handle any delays or issues that may arise.
Timely deliveries: An international freight forwarder leverages its global partnerships and networks to configure a transport route and methods to deliver shipments within the desired timeframe. They can also help organize alternative routes in case of delays.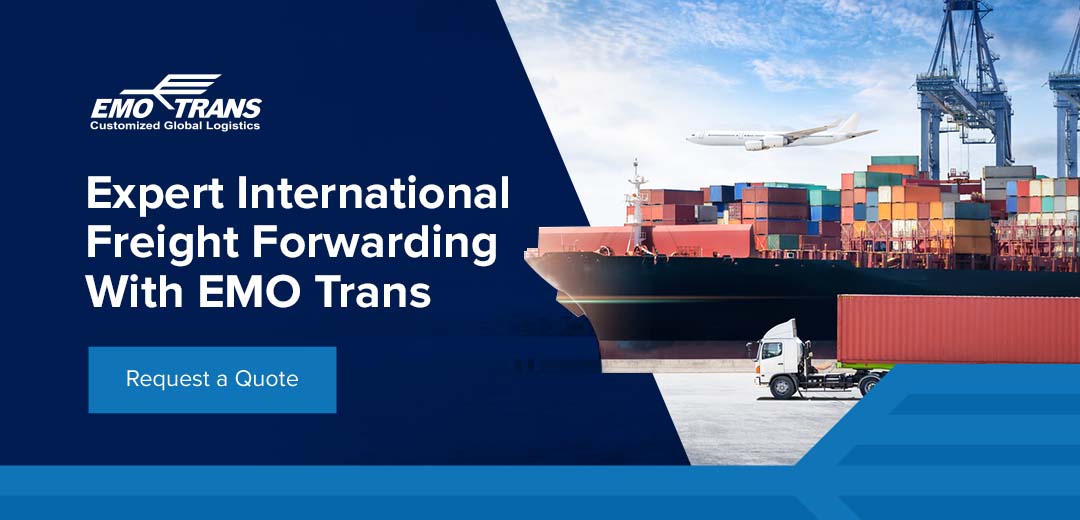 Expert International Freight Forwarding With EMO Trans
Simplify global logistics by working with EMO Trans. As a leader in global logistics, we work tirelessly to understand our client's needs to develop customized logistics solutions. We leverage our 55 years of experience and 250 network offices in over 120 countries to ensure your cargo is delivered on time. Our expert team will be your one point of contact, simplifying the transport of your essential goods.
Request a quote from us today!