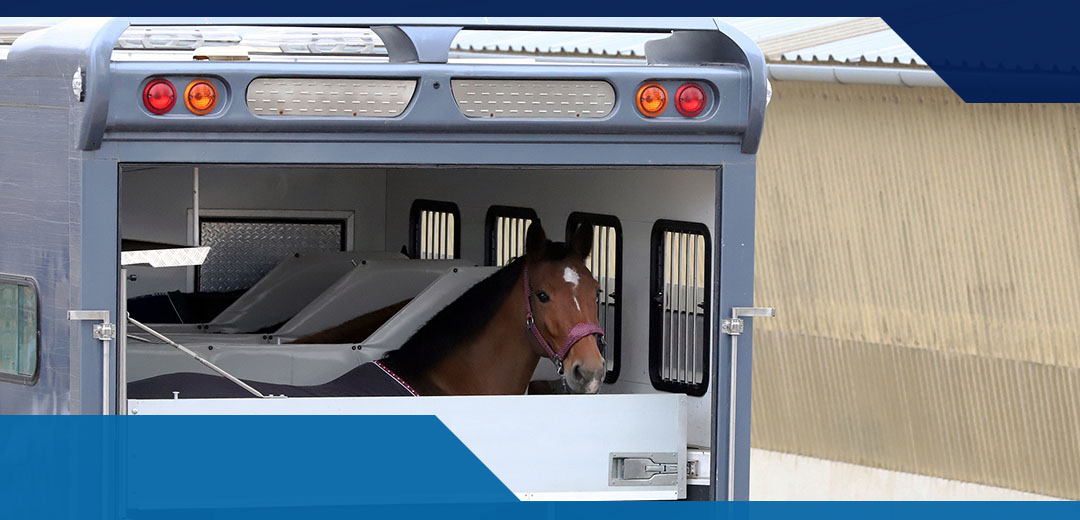 Safely transporting your horse is a huge responsibility. As a live animal, great care must be taken to ensure your animal's transport process is as safe and stress-free as possible. Whether you are transporting your horse across the country or overseas for a competition or relocation, there are four methods of transport to choose from — air, rail, road and sea.
Horse shipping cost estimations depend on the location and type of transport you choose. Understanding how each method works and the costs involved can help you prepare the next time you need to transport your horse.
Horse Transportation Costs
Horse transportation costs will vary depending on distance, shipping method, location and other factors, including medical certification and shipping documentation. Horse hauling rates per mile range from $0.75 to $3. The cost to ship a horse cross-country may include additional layover fees ranging from $150 to $300 a day. The layover fees include anything your horse may need while being transported and accommodated overnight.
It is more expensive to fly a horse. Flying a horse can cost anywhere between $2,000 and $10,000 for a one-way ticket. A return flight can cost up to $20,000. Multiple variables are associated with flying a horse, including levels of comfort, location and even extra vet bills.
Air
Shipping your horse by air is the most expensive option. You will need to work with a company that specializes in transporting live animals by air. As flying can be stressful for horses, it is typically reserved for international rather than domestic relocation.
Horses travel in special cargo planes, usually placed within a stall. They will need to be accompanied during their flight, either by yourself, one of your grooms or a representative from the transport company. Whoever accompanies your horse will ensure they get food and water during the flight.
Several factors determine the cost of flying your horse, including:
Travel class: As with humans, horses have different travel classes. Different stall sizes are available and your horse can travel alone or with other horses in a stall. There are generally three classes of horse travel — coach, business and first class. Each class has different costs.
Final destination: The distance your horse needs to fly will impact the cost of travel. The further the destination, the more expensive flights are. Also, if there are any connecting flights costs will increase as your horse may need to be moved between planes.
Airport availability: Not all airlines or airports can transport horses. A plane may need to be sent to pick up your horse if your airport doesn't transport horses. Alternatively, you may need to transport your horse to the nearest airport that does fly horses.

Road
Transporting horses by road is the most popular way to ship a horse domestically. It is usually cheaper than other transport options and is generally safer for horses. There are a few factors that influence the cost per mile of transporting a horse, including:
Layovers: If you are traveling a considerable distance, you must stop for layovers for your horse. This gives them time to stretch and get out of the horse box for a while. You may also want to find a place to stable your horse overnight rather than leave them in the trailer.
Size: The size and number of horses that need to be transported will likely impact the costs. Horses must be transported in a trailer that suits their size. The more horses you need to transport and the bigger they are, the larger the trailer you need and the higher the costs.
Time of year: Transporting a horse in winter may be more expensive as severe weather may force road closures. This can make the transport route longer resulting in higher costs.
Rail
Another way to transport horses domestically is by rail. Rail transport may be a viable option if your journey starts and ends near a railway or you have multiple days to travel. Traveling by rail can be one of the most comfortable ways to ship a horse as there are no abrupt changes in direction, smooth roads and no sudden stops.
Having a more stable and smooth ride can help prevent motion sickness in horses. Horses can also nap while traveling by rail, which may help them recover from the trip more quickly.
Sea
Shipping a horse by sea is often a last resort if the other three options are unavailable. It can take a long time and delays can make the trip even longer. Like humans and other animals, horses can suffer from seasickness due to unstable and ever-changing sea conditions. Horses are unable to vomit except in extreme cases. Their seasickness and inability to vomit may lead to colic, a potentially life-threatening condition.
Local Versus International Horse Transport Cost
Transporting your horse locally will generally be cheaper as you can transport them by road. Depending on whether you are transporting your horse domestically for competitions, auctions or relocation, you will need specific medical documentation from an accredited vet. Most horse competitions in the United States require a Coggins test and proof of vaccination for the Equine Influenza Virus and Equine Herpes Virus at least six months before the show.
If you are transporting a horse to an auction, you may be required to have a Certificate of Veterinary Inspection. These show your horse is free of disease and are usually valid for 30 days, depending on the disease situation of the state or region. The documentation you need depends on whether you are traveling within your state or leaving it. Different countries may also have specific regional policies, so it is essential to check.
There are also additional fees when transporting your horse overseas. Generally, you will have to isolate your horse before leaving the country. They will need to be transported to a United States Department of Agriculture (USDA) approved facility for up to 30 days. This can cost between $1,000 and $3,000. You will also need to have a valid Coggins test performed by a USDA-approved vet, costing $1,000 to $3,000.
Some flights have a pre-boarding quarantine that can last up to five hours. The cost for this will depend on how far the isolation facility is from the airport. The country you are shipping your horse to may also have additional vaccination and isolation requirements once you land, which will add to the cost of shipping your horse.
The cost of bringing a horse into the United States will depend on the quarantine requirements. The quarantine requirements for horses are based on the country of origin, why you are bringing the horse into the country and the disease state of the country.
Partner with EMO Trans for Horse Transportation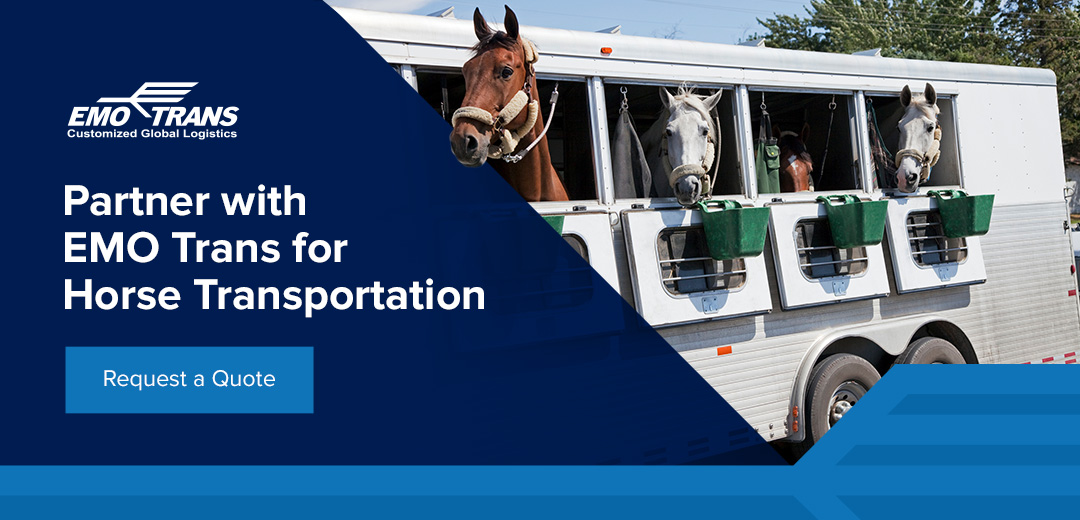 Transporting your horse requires attention to detail and care for your horses. At EMO Trans, we work with you to ensure your animals' safe and efficient transport. Our detailed planning and specialty handling ensure your animal is well cared for on the ground and in the air. All shipping and transporting of live animals are handled by our trained professionals and in full compliance with all regulations.
Our live animal transport services include quarantine and isolation, veterinary and health certificate preparations and any export or import documentation. Request a quote for professional horse transportation today!