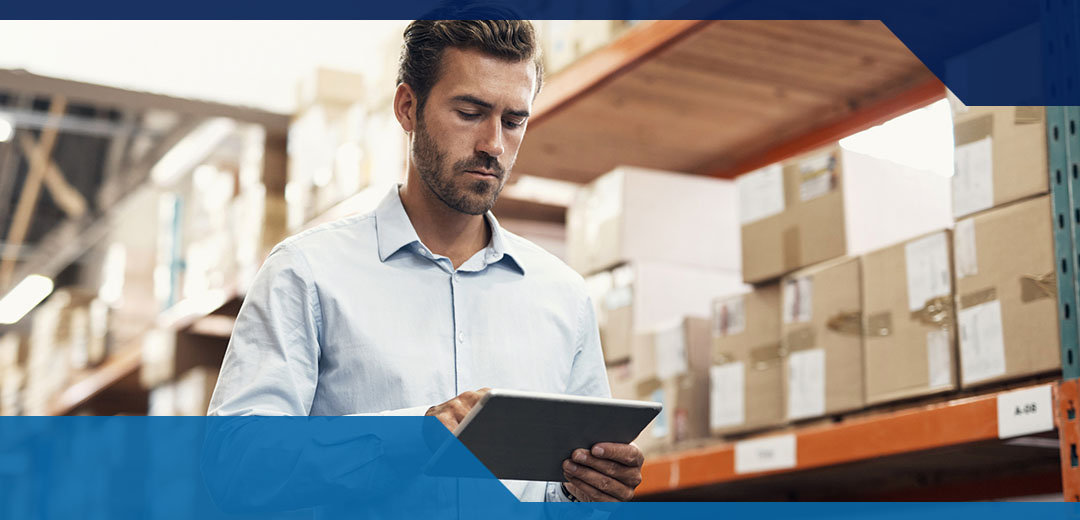 Supply chain partners can benefit your business by increasing efficiencies and decreasing long-term costs. These lasting relationships boost customer and employee satisfaction and empower you to deliver a product that exceeds consumer expectations. Supply chain partners have the tools and technologies to manage your supply chain and easily adapt to market changes and customer preferences. However, finding the right partner is essential for getting the most from your relationship.
Every business has unique requirements, and you need to find a partner that understands your goals and how to overcome challenges efficiently. With hundreds of partners available, it can be challenging to pinpoint the best option. It's important to consider your business goals and evaluate scalability, sustainability, data access, transparency and technological compatibility to create the most meaningful relationship. Explore how to choose a supply chain partner and how the right partner will benefit your business.
What Is a Supply Chain Partner?
A supply chain partner is any individual, organization or company that procures goods and services for your company. Supply chain services offer the service or product that a business needs. Supply chain partners have full-service solutions for quality control, sourcing and logistics. These partners consist of a network of suppliers, but you maintain a much closer relationship compared to finding individual suppliers yourself.
Supply chain partners have expertise in managing logistics and supply chains to ensure you have everything you require for an efficient flow. Your partner can also help track your deliveries and manage your inventories.
A supply chain partner could be a manufacturer managing good production, software solutions to create smooth interactions between sellers and buyers, vendors responsible for goods and services, or transportation companies that move items from one location to another. Finding the right partner is essential for maximizing productivity and efficiency.
The Importance of a Supply Chain Partner
The right supply chain partner empowers you to effectively source globally. This process can boost customer satisfaction and create a more efficient workplace. Enhanced collaboration with your supply chain partner can help reduce cycle times and improve operational efficiencies. You can also discover new ways to automate core functions and routine tasks as well as access insights such as forecasting.
In addition, collaboration allows your teams to understand objectives and requirements better. This knowledge can empower team members to accelerate product development and create more innovative ideas. Overall, enhanced processes help drive business growth and build stronger relationships with your customers.
Perhaps the most important aspect of creating a lasting partnership is improving product quality and safety. Delivering high-quality products is critical for customer satisfaction. Forging a relationship with a supply chain partner helps you gain an additional perspective on challenges related to product safety and quality. By working with your partner, you can develop a plan to overcome these challenges for the benefit of your customers and business.
For example, you can consolidate and analyze compliance and quality data from every part of the process, giving you a complete view of your sourcing operations. These actionable insights allow you to track safety and quality issues with high precision, then intervene with corrective actions quickly. As a result, you can deliver consistent, safe and high-quality products that your customer base will rely on and associate with your brand.
Benefits of Choosing the Right Supply Chain Company
Along with creating a deep relationship and ensuring product quality and safety, there are many benefits to finding a supply chain partner. Advantages of locating the right partner include:
Lower long-term costs: Although one-off partnerships can sometimes benefit your business, long-term arrangements significantly impact your bottom line. The longer you collaborate with your partner, the better you understand each other's working methods, strengths and weaknesses. Streamlining your communication can reduce extra costs and time you would need to learn a new supplier's habits, standards and operations. You can close gaps much faster with a familiar partner and optimize routine procedures.
Drive better ethical standards: Consumers are becoming more aware of sustainability and ethical practices. Many people prefer sustainable products and services, making it crucial to adjust your business operations. Supply chain partner collaboration empowers you to drive lasting and meaningful change through your international supply chain. You can work with your partner to promote higher environmental and ethical standards.
Increase responsiveness: Coordinate and optimize responses and create efficiencies to address pain points with your supply chain partner. By quickly identifying disruptions and boosting collaboration, you can enhance your capacity to meet consumer needs.
Improve orchestration: You can align your business with your partner by sharing real-time data. This process allows you to streamline operations when demands change to reduce negative impacts.
Retain employees: Employee retention is vital, and attracting and retaining top talent can create a strong brand and efficient workplace. In collaboration with a supply chain partner, you can provide the most advanced tools for your team to complete their jobs. As a result, team members can hone their professional skills, feel more satisfied at work, develop their careers and contribute to company success. The right supply chain partner will create long-term relationships with your team that benefit your business in many ways.
How to Find the Right Supply Chain Partner
Every supply chain partner is different, and each serves a different purpose. You must investigate solutions to determine which would be the best fit for your organization and can meet your goals and demands.
Choose the right supply chain solution to streamline processes and boost efficiency using the following tips.
Understand Your Business Goals
Before looking for a partner, determine your business goals, supply chain challenges and what you need from your partner. Defining these elements will make it much easier to identify a partner to tackle these requirements and present unique solutions for your company.
You will also want to evaluate your potential partner's full suite of services. Choose a partner that prioritizes the operations you most need to enhance. Your partner's industry experience and solutions will provide the information you're looking for. By defining your goals ahead of time, you can establish whether the service suite will address your demands or if you should look elsewhere.
In addition, consider whether your partner can offer custom services. Every business has unique demands, and there may be times when you need a customizable solution. If your partner is unable to accommodate unique scenarios, or approaches your company with a one-size-fits-all solution, you may need to search for a different partner.
Look for Scalability and Flexibility
Finding a partner that understands your goals also means choosing a company that can realign and reroute when necessary. Although close management can keep projects on schedule, it can be challenging to anticipate last-minute changes from clients and consumers. Your partner must have the flexibility to react quickly to issues in deliveries, shipments, volumes and routes.
If you want to expand your business, looking for extra support is essential. Your supply chain partner should have the resources and capital to match your growth plans and support your goals. Choosing a partner without these resources could result in the need to switch partners, which could waste time and increase unnecessary spending. Additionally, your partner should be able to adjust their resources if demand drops.
Evaluate Transparency and Visibility
The right partner will offer complete visibility for each aspect of the supply chain. You should be able to conduct audits of your performance and understand all key performance indicators. Communication will be vital for achieving visibility. Strong communication can boost inventory management, allow for more opportunities, increase revenue and create excellent client relationships. By seeking transparency, you can obtain accurate data to grow your business, define pain points and make changes to reach success.
Supply chain visibility data accounts for elements such as:
Auditing records: You can find regulatory and compliance information in auditing records. These documents are critical for ensuring you conduct all processes lawfully.
Shipping details: Visibility includes having real-time data on shipments. Ideally, you can share all relevant information with your stakeholders simultaneously.
Order statuses: It's important to have information about deliveries from distributors, and visibility will ensure operational efficiency.
Regardless of the system your partner operates with, your supply chain success will depend on thorough communication and visibility. Set your expectations for communication and reporting from the start of the arrangement. Your partner can keep your needs in mind as you strengthen your relationship and develop a working mode of communication.
Ask About Your Access to Data
Data access goes hand-in-hand with visibility. Along with accessing information regarding your specific business practices, you should be able to view the necessary paperwork to complete each business transaction.
Be sure you can access information such as compliance certifications for processes, products and equipment. It's also important to have access to relevant information about routes, tasks and other routine processes throughout your company. From the time you order goods to the moment the consumer's shipment reaches their door, you want to feel confident in your partner's capabilities and processes.
Discuss Previous Experience
Your supply chain partner should have proven experience working within your industry and operating with companies of your size. Whether you're a small operation or a company with 3,500 employees, your partner must be able to keep up with demand. If you find that your partner does not have past proficiency with your volume, you will likely need to identify another option.
When you discuss your partner's experience, make sure they have the knowledge and expertise to benefit your business. Discuss the brands they've worked with and the initiatives they've worked toward. If you recognize the brands your partner lists and believe they have the potential to understand your scope, you can feel confident that you're in good hands. Ask for references if you want to rely on industry opinions before making a final decision.
In addition, you should evaluate your provider's reach and assess their location. If you're looking for an international supply chain reach, you will need a partner that can grow with your requirements. Similarly, if you're working with domestic products, it may be beneficial to partner with someone closer to your location.
Achieve Sustainability
Sustainability is essential for many consumers and organizations. Supply chain sustainability is the impact a business's supply chain can have on society, the economy and the environment. Businesses are now focusing on minimizing environmental harm by decreasing waste production, energy use and water use.
Companies are also shifting gears to have a positive impact on local communities and the environment. With so many businesses making the switch to sustainability, finding a partner to achieve these goals can support your requirements and help you gain a competitive edge.
Supply chains often require a large amount of energy to produce, manufacture and transport goods. There are many ways to increase sustainability, such as using eco-friendly packaging and choosing alternative energy sources. Regardless of your unique sustainability goals, your supply chain partner should accommodate your needs and help you work toward better business practices.
Ensure Technological Compatibility
Compatibility with your partner's systems is crucial for boosting organizational performance. Highly competitive businesses integrate and share resources to attain desirable results with upstream and downstream partners. Many providers have developed technologies to manage supplies, inventory, vendors and transportation, but you must ensure you can integrate their tools into your existing software. Implementation of systems should be inexpensive and quick to offer a competitive advantage. A seamless integration can also enhance visibility in the management process.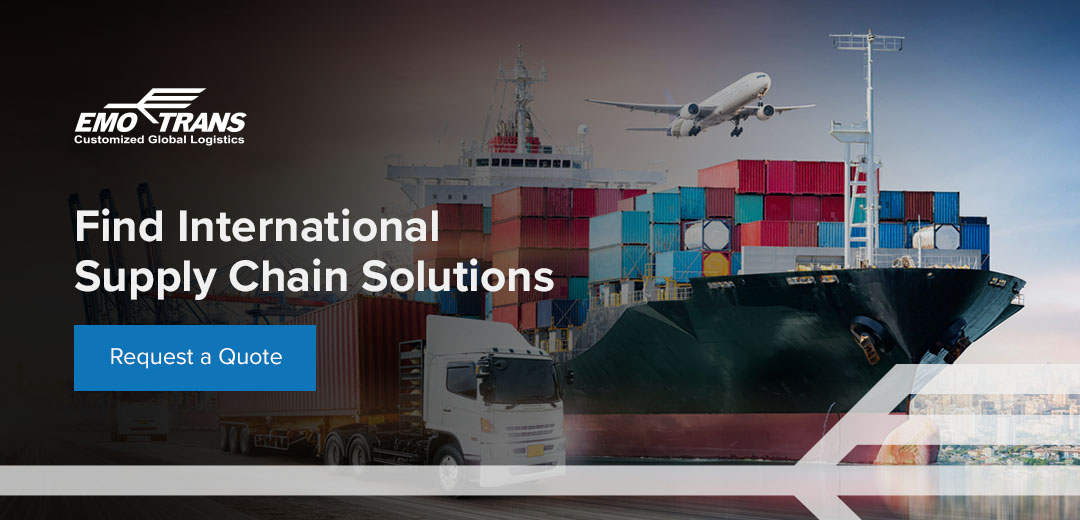 Find International Supply Chain Solutions
EMO Trans is a multi-national, privately owned company. We're invested in internalizing and understanding the goals and needs of our customers. Our team works to create partnerships, facilitating the most effective and efficient supply chain solutions possible. We're deeply interested in your business, and we collaborate on a global scale.
At EMO Trans, you can find a tightly coordinated group of vetted partners who develop strategies and products for reliable, comprehensive global service. Whether you need someone to gather information about a shipment or expedite your goods, you can feel confident in our team. Our international supply chain services offer the scalability and experience you expect.
We can help you devise strategies for upcoming years so you can continuously evolve with the changing business landscape. We make it a point to invest in new technologies and constantly improve our processes and our services. Our goal is to give you a competitive edge, and we offer reporting and mobile capabilities to handle your data and provide that edge.
Work with a supply chain partner that understands your goals. EMO Trans offers customizable services to fit your needs better. Our custom approach enables us to make a real difference in your logistics processes. With a global network and strong communication, you can find the flexibility you need.
Request a quote to discover how we can help your business.