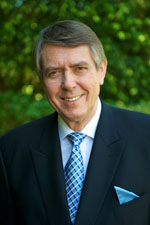 GARDEN CITY, NY – April 21, 2021 – EMO Trans, a global provider of logistics and supply chain management services, mourns the death of its Founder and Chairman, Joachim (Jo) Frigger, who passed away unexpectedly April 19, 2021.
Jo served EMO Trans for nearly 50 years as Chairman, CEO, President and the founder of EMO Trans USA. Under his tenure, EMO USA grew from one office at JFK Airport in New York to a logistics powerhouse with a presence in every major U.S. shipping hub and an international reach through the EMO Trans global network. Today, EMO Trans USA has grown to 33 branches nationwide, employing nearly 400 staff.
Born October 16, 1940 in Opladen, Germany and raised in nearby Cologne, Jo first moved to the United States in 1966 as part of his work for Deugro freight forwarding company. He went on to found EMO Trans USA in 1972 in partnership with EMO Germany. Jo worked tirelessly from day one, and over the ensuing decades, to propel the company to great growth and global reach. EMO Trans was more than his company; it was his extended family, and his colleagues will miss him immeasurably.
He is remembered as a savvy businessman with a passion for the freight forwarding industry and an unwavering commitment to serving customers with excellence and the highest of ethics. His mantra, "Success by Performance," underpins the company's reputation for customized customer solutions and attention to detail. "Jo was not just my boss; he was also my partner, my mentor, and my friend," said President & CEO Marco Rohrer. "Through his significant experience and wisdom, he provided thoughtful guidance and a unique perspective to our discussions, which resulted in better decision making."
EMO Trans' current management team is fully prepared to continue Jo's legacy of strong leadership, careful planning, and wise decision-making. "He was always looking ahead and envisioning ways to improve our performance and build on our success. This will not change, as we have a strong team hand-selected by Jo to continue this path," Rohrer said. "Together, we will work through our grief and continue providing the level of service that Jo expected and exemplified."
In addition to his passion for work, Jo engaged in social and charitable causes including the German-American Chamber of Commerce, the Red Cross, the Salvation Army, Feeding America, Ampo Burkina Faso, a home for orphaned children founded by fellow German Katrin Rohde, and children's hospice Baerenherz. He is survived by wife Karin, son Sven and daughter Jennifer (and their spouses), as well as grandchildren Maya, Lucas, Kai, and Jaxon.
###
About EMO Trans
Established in 1965 in Stuttgart, Germany, EMO Trans has been on a path of continued expansion and success for more than 50 years. Now with over 85 EMO Trans offices in 21 countries and 250+ network offices in 120 countries covering six continents, our solid infrastructure ensures that we can deliver exceptional logistics services to customers large and small. We are a multi-national privately owned company, deeply invested in understanding and internalizing the needs and goals of our customers.
Media Contact:
Kathy Miller